GMC Sierra 2500 vs 3500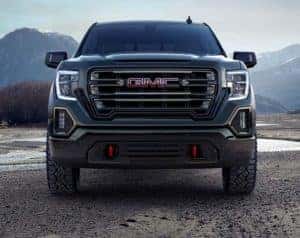 The powerful and performance driven GMC Sierra is a truck enthusiast's dream. GMC's truck lineup delivers excellence in any model, proving that although bigger can be great, it doesn't naturally mean better. Both the 2500 and 3500 trucks are road beasts and ultimate towing machines, and even though these two trucks are similar mechanically, they have their differences. When comparing the GMC Sierra models, it truly comes down to logistics.
Starting at $38,200 msrp, the 2500 is the little brother of the two Sierras. The 2500 can be modified into 30 different configurations of trim levels or modifications including cab and bed size. The Sierra 2500 can be modified as a regular, double, or crew cab, with the option of either a long or standard bed. This truck weighs about 6500lbs yet it is quite slim in comparison to the 3500; still capable of being a city truck. The 2500 is also competitively priced, which in itself is quite appealing. With a max towing capacity of 18,500lbs, a maximum payload of 3500lbs, and availability in both 2 or 4 wheel drive (with exceptions of the AT4 and Denali as only 4 wheel drive), the 2500 exhibits strength at the comfortability that you'll love.
Starting at $39,400 msrp, the 3500 is the big brother of the two Sierras. The 3500 is available as a regular, double, or crew cab on the basic Sierra or SLE, yet only crew cab on the SLT, AT4, and Denali. In addition, the 3500 comes with long beds of either single or double rear wheel configurations. This is because of the capabilities this truck has. With an original max towing capacity of 23,100lbs but now modified to reach up to 35,500lbs, the 3500 proves to be all about performance. This heavy duty truck also has a maximum payload of 6500lbs, almost double the 2500's capability. If you want the powerhouse of GMC, the 3500 is the truck for you.
Similarities
Whether you prefer gas or diesel, the 2500 and 3500 will surely exceed your expectations with their identical specs and engines. On the 6.6L gas V8 engine there's 401hp, 464-ft of torque, and a 6-speed automatic transmission, and on the 6.6L diesel V8 engine there's 445hp, 910lb-ft of torque, and a 10-speed automatic transmission.
GMC Sierra at Lynch GM Superstore
Whether you're shopping for a new or used Sierra 2500 or 3500, or any GMC for that matter, Lynch GM Superstore is built for the job! Take a look at our GMC inventory, call 262-661-2010 for more information, or stop in at our Lynch GM Superstore in Burlington for a test drive! We are located at 2300 Browns Lake Dr, Burlington, WI 53105.